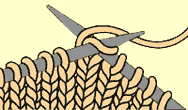 Knitting is such a good metaphor for many things - broken bones, relationships, strategic plans, groups, but I'm knitting with yarn and needles. Back in Bermuda when my Dad was in the Navy and I was 12, I had to learn to knit in the sadly inefficient home economics program. I made a one potholder about 5 inches square of harsh wool yarn. We also learned how to clean a house, as if our mothers didn't teach us that. We learned how to make steamed pudding, the plum puddding/Christmas treat kind. We made rolls and we learned how to wash dishes...without hot water. After one semester, the school transferred me to gardening and gave me a machete to keep the vines and weeds out of the banana patch. That was a lot more fun.
But, my partner is knitting, her friends are knitting, my friend is knitting, and I learned how to make an i (as in idiot) cord for my jewelry making. Then partner was giving away some yarn that I thought was very pretty but unsuitable for my fiber jewelry work. So, I began with a few stitches; then she gave me some needles, and I have finished four feet of a five-foot, eight inch wide scarf for winter. It's so pretty. I'm amazed.
And, this makes the metaphor of knitting so much more meaningful to me. I dropped a stitch early on and the thing unraveled from the middle - just like that, I had to start over. Just like that, all my work was undone because of my inattention to detail.
Isn't life like that, we're going along putting one stitch in after another, thinking that we're making a whole piece of work, when we look back and it's coming apart. I think of Carole King's "Tapestry" - "my tapestry's unraveling, he's come to take me back." Well, that's what happens when I don't pay attention to detail.
Detail in relationship, as you readers have seen in some previous posts, we go back to a slip knot and start over, casting on stitches one by one, one talk followed by another - until the thing takes shape again. Now, some people, if they notice the dropped stitch in time, can quickly tag it and use a crochet hook to weave it back in. I can't do that...at least not yet. With me, an unraveled piece usually means that I begin anew.
I have to rerun previous conversations to make sure that I understood what was said and what was meant. Then I rerun previous successes to see where the good was preserved and grown. Only then can I take up the talking or thinking about the dropped stitch, my inattention to detail. And, since relationships require two, I look at my view of her/his inattention to detail. Notice that's "my view", which may or may not be correct.
So knitting is a very good metaphor for many things in my life. And, I haven't even gotten to anything more complex that knit one, knit one, knit one, and continue. No purling, no cableing. Tie a slip knot, cast on your stitches and knit, but pay attention to the detail so your "thing" won't unravel.